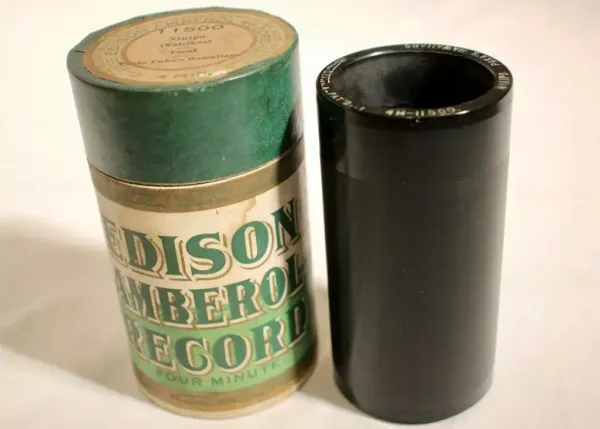 Toots Paka's Hawaiians 
"Ninipo" The FIRST recording of the steel guitar! 
I'm very excited to add this historic cylinder to the Antique Aloha collection shelves. Years prior to the Hawaiian Pavilion at the Pan-Pacific Expo and the start of the "Hawaiian Craze" of 1915 Toot's Paka Hawaiians entered the studio for Edison on 10/23/1909 and made history. 
This wax cylinder recording contains the very first appearance of a steel guitar on a commercially available issue. At this session the band recorded 5 songs. "Ninipo" was the earliest to be issued on Edison wax 11500. It would take another 4 years years for the steel guitar to appear on a 78 RPM disk!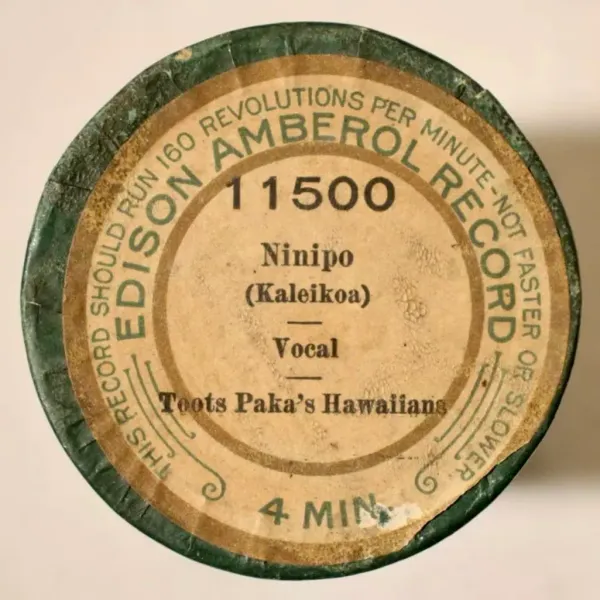 As with all recordings of this age many personal records are lost or were never accurately created. However it's understood that Toot's husband Iolai "July" Paka plays the steel parts on this session. Steel guitar inventor Joseph Kekuku was likely in the band on standard guitar. Joseph would do his own session as a leader on steel guitar for Edison two days later. 
It's taken years to find a prime copy. And in that time searching I've only seen one other copy (which unfortunately I forgot about bidding on). As a bonus this one is pristine, with its original tube and label cap! 
Toots Paka's Hawaiians prob. Iolai "July" Paka, sg; poss. John K. Paaluhi, g; poss. Joseph Kekuku, 2nd g; Toots Paka, uke, poss. f; unk. uke; unk. v(m), v-1; poss. unk. personnel
CLICK HERE to hear a well transferred copy of this historic cylinder recording while I work to transfer and restore my copy!